Easter Party Ideas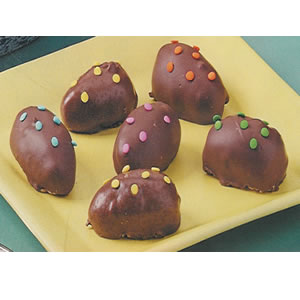 It won't be long now. Easter is just around the corner and this is the perfect theme for a family get-together. It's so easy to do, so much fun and so festive! Whether you are doing it at home or you've decided to eat out or have it catered, these few things can make for a memorable occasion.
The Invitation:
I was in a Carlton Card Shop just recently, and they had the cutest bunnies holding foil chocolate eggs for $2 each. If you aren't inviting a lot of people, this is the perfect invitation with a card or flier attached!
Outside:
You may want to hang a bunny flag from your porch or by the end of your drive just to let your guests know that this is the place! These banners get prettier and prettier every year and can be found at your local nursery.
At the Entrance:
As people enter, have a sign-in board near the door for "Some Bunny Loves You" messages to the Easter Bunny. Don't forget a marker. The kids will love it, and when the day is over you have a great piece of art. Keep it in the basement, and bring it out every year. Soon it will be a family heirloom! Put the sign on an easel, but don't forget to decorate.
On the floor around the bottom, place some stuffed bunnies with baskets of goodies--one for each guest when they leave. I don't have to tell you but I will--fill them with jelly beans, marshmallow eggs, chocolate bunnies and more.
Table Decorations:
Centerpieces are great fun and go with your theme. Two or three stuffed bunnies per table--8 to 11" tall. You can find them in any catalogue for $3 and $4 (sometimes less). For different heights, put a flower pot upside down and you'll have a great look. Scatter jelly beans and foil chocolate eggs around the bottom as confetti. A masterpiece.
You'll think I'm crazy, but just for fun I'd wrap a fresh carrot (complete with green leaves) in each napkin with the leaves hanging out (a bunny's favorite food)... fun and colorful. Tie each off with 1" Easter Bunny satin ribbon in spring colors.
Activities:
You have no choice but to color Easter eggs, right? Well, at that same Carlton Card Shop and I'm sure at other stores, too, there were stuffed fabric eggs complete with markers that would keep anyone busy for a while and last forever to boot! Having a bunny-drawing contest with fun prizes, an Easter egg hunt, an Easter egg-shaped cookies decorating contest, and a make-a-bunny contest (don't forget to get cotton for those tails!)... are a few other things you might consider.
Charity:
As a last suggestion, why not gather up the bunnies used in the centerpiece and take them with your kids to the local children's hospital and pass them out to the children who didn't get to spend Easter at home. It will be a valuable lesson for your kids and something that makes you feel good about yourself and your family.