LA nightlife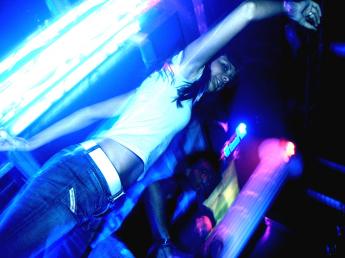 SO YOU'RE FEELING LIKE YOU'VE SEEN THE INSIDE OF MORE L.A. NIGHTSPOTS THAN VINCE VAUGHN IN Swingers? You've done Deep and Daddy's, scoped Star Shoes and Beauty Bar, gone slumming at Bordner's and the Brig, kicked up your heels at Saddle Ranch and Dublin's, got glam at Skybar and the Standard, rocked the House of Blues and Key Club, and haunted hipster hangs Lava Lounge and the Dresden Room.
You think you've been there, done that? Nor in L.A. , baby. Nor by a long shot.
Sure, the naysayers make a few easonable points about the local late-night landscape: It would be fab to find a bar that actually holds last call until 2 a.m. And we've taken the smoke of the requisite smoke-filled room for swilling martinis. But what Angelenos, in all of their far-flung neighborhoods, have over most other nightlife-loving pub-crawlers is a love of the new, the next, the cutting edge--in dives to dance clubs, restaurants to roadhouses, lounges to lobbies, pubs to poolside patios. Our list of L.A. 's latest and greatest should prove conclusively that there's always a brand-new buzz, just around the corner, beckoning "Be here, do this."
Dance, dance, dance. This glam gem of a nightclub is the closest thing L.A. has to a modern-day Studio 54, where the tightest club kids in town go to get their freak on all over a dance floor populated by sexy superstars of the split second. Hey, isn't that Britney shakin' it on the scene? Wasn't Justin just here the night before canoodling with Alyssa, or was he picking up major moves from Janet? And while Vin was scoping out the bar, who was Drew groping in the corner? Just ask Christina, she's there almost every night, even though the crowd changes as radically as the music--Goth to glam, house to hip-hop, reggae to rock and beyond--with each evening's spinmaster. Stained glass, giant murals, arched Gothic ceilings, and a labyrinthine layout supply the medieval motif, and A.D. has us all wondering what people were doing for fun B.C. (Before Clubs).
The Downtown Standard
550 South Flower Street , Los Angeles , (213) 892-8080
Known for his ability to retool with cool, hotelier Andre Balasz has brought hipster chic to downtown L.A by morphing a languishing 1956 office building into the area's party epicenter. With its hot-pink 125-foot-long "Omnibus" sofa, pool table, photo booth, white organ, and Calder-inspired mobile, you might think the lobby is the utmost in so-retro-it's-right-now space-age style, but that's just for starters. Work those connections and head straight to the 12th-floor rooftop bar, which pairs a stunning vista of the L.A. cityscape with such uber-kitchy touches as fire engine-red fiberglass pods, Astraturf, and waitresses wearing the letter S emblazoned on their cheerleader-style panties. The capper is the heated swimming pool filled with toys and surrounded by private cabanas with heated vibrating waterbeds. And while most places see the Sunday morning after as a day of rest, the Standard's Sunday Service is an all-day bash hosted by some of the hottest deejays in town. This place is anything but standard.
Drake's
23 Windward Avenue , Venice , (310) 450-7055
Sign, schmign. Venice 's latest nightspot has successfully introduced the word exclusive into the artsy colony's vernacular, having taken over the old St. Mark's jazz club without bothering to post a sign alerting the public to its presence. In fact, Drake's--from the team behind the revitalized Circle Bar--has only recently adopted a listed phone number, but it's been discovered by Westside beachcombers looking for a hang a little more chichi than most neighboring spots. OK, with its enviable menu of serious steaks, its wine-tasting nights, and its elegant upstairs cocktail lounge, a lot more chichi. Yet the restaurant manages to remain true to its bohemian roots as well: the building was built by Abbot Kinney in the early 1900s, and Drake's remembers him with a genuine Venetian gondola once owned by Venice Beach 's founder.
Falcon
7213 Sunset Boulevard, Hollywood , (323) 850-5350
Named for silent star Rudolph Valentino's estate, Falcon's Lair, this of-the-moment eatery is more chic than sheik: its Modernist design touches include a brushed, stainless-steel wind chime curtain, reflective black tabletops, ebony plank floors, imported zebrawood walls, and faux alpaca fur ottomans. Although first and foremost a restaurant (chef Matthew Dickson is a stickler for fresh, seasonal ingredients and gets bored quickly, prompting a quick turnover of menu items), Falcon already has sunk its talons into the scenesters, who are drawn to pose-friendly point-positions, like the polished-concrete patio with outdoor bar and fireplace that occupies at least a third of the building's space. Scenemakers from George Clooney to Sharon Osbourne have shown up, practically ensuring that this Falcon will have wings.
Firefly
11720 Venture Boulevard , Studio City , (818) 762-1833
Has clubland finally come to the Valley? Just a few blocks from Laurel Canyon Boulevard , the ivy-covered Firefly has reached hot, hot status, as evidenced by its bright red bar and the blazing fire pit at the restaurant's center that illuminates the otherwise Stygian shadows of its book-lined walls with just enough light to peruse a tome. Meanwhile, the patio is coal, cool with drapery-shielded booths that lend themselves to all manner of canoodling, especially after the sexy coed bathrooms get your libido stoked. Judging by its always-packed status, it seems that Valley girls and Valley guys alike have been waiting a long time for a nightspot with this kind of glow.
Forty Deuce
5574 Melrose Avenue , Hollywood , (323) 465-4242
Forty Deuce is anything but your typical bump-and-grind joint: its road to success with the club-hopping in crowd was bump-free; and its saucy striptease acts are worlds away from the daily grind. Deep owner Ivan Kane has created yet another sizzling spot by reviving the ages-old art of burlesque. Forget pole-climbing acrobatics, the exquisite headliner Carolina blends the grace and poise of a trained dancer with old-fashioned sax-fueled sexy shimmy as she slings her boa and bustier into a surprisingly chick- and celebrity-heavy crowd. Tim Allen, Matthew Perry, Demi Moore, and Nicole Kidman have enjoyed the show. Some elements--like the wall of bombshell-sportin' '505 album art--are cool; others--the all-too-anatomically correct labels on the rest rooms--are crass. The combo suggests that anything goes at Forty Deuce, even if everything doesn't come off.
4100
4100 Sunset Boulevard, Silverlake, (323) 666-4460
Once a site occupied by a succession of gangbuster gay clubs, 4100 is less concerned with sexual orientation than with providing a good time--no surprise considering it's yet another club from the team responsible for Daddy's and other unpretentious magnets for discriminating scenesters. Thus, gay, straight, bi, tri, whatever--everyone finds late-night enlightenment in this dimly lit bar, with its beatific Buddha and other Asian touches, including the dragon-emblazoned tables, overhead tapestries, and red oblong bar. But the vibe--the eclectic tunes from the jukebox run from GNR to Jacko to a well-considered crop of CDs from local bands--is more Eastside than Eastern. Considered by many to be the year's best new nightspot, 4100 seems to have everyone's number.
The Lounge
9077 Santa Monica Blvd, West Hollywood , (310) 888-8811
Despite its name, there's nothing remotely mellow about the Lounge, which has become the most in-demand music Mecca in town--just check out the Thursday night throngs clamoring to get in to check their groove thangs, or the always perilously overloaded back balcony filled with club kids in need of a nicotine fix. Once inside you'll be treated to some of the tightest tuneage in town, and each night has its own flavor: in-house celeb ivory tickler Jeff Goldblum jazzes things up every Tuesday, while top-notch deejays spin other nights, and occasional live bands--including Dennis Quaid's combo--heat things up for the celeb-heavy crowd. Check your attitude at the door--the doormen have it in abundance--and chill, even after you discover that having your name on the guest list doesn't guarantee instant access. But most nights, it's worth the wait.