Nightlife Agenda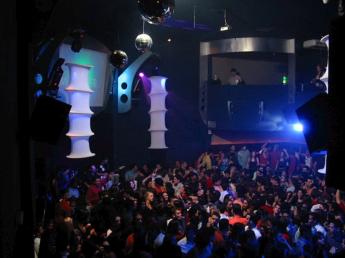 Thursday, Sept. 29We're not going to get too many more chances to enjoy happy hour and dancing outdoors. Breeze, the indoor/outdoor dance party at Yuca, ended last weekend and the clock is ticking on those wonderful rooftop events at the Hilton on Embassy Row. Make the most of the time that's left by heading there tonight for salsa under the stars. Organizer Euronet International has lined up dance lessons from 6:45 to 7:45, followed by a DJ spinning Latin rhythms until 10. Beers and margaritas are $4 all night. Admission is $10 if you RSVP at euronetinternational.com, but it's half-price for students with ID, and if you bring a group of four, you only pay for three.

Friday, Sept. 30 Flanagan's Irish Pub, the oldest bar in Bethesda , is closing its doors for good on Oct. 9. The building is being torn down and new condos are going up in its place, but not before the owners host a few last blowouts. Scythian, the lively Celtic rock-meets-folk band that we've endorsed several times in this column, is playing two shows there in the final 10 days. The Oct. 7 appearance, billed as "The Last Friday at Flanagan's," requires reservations and carries a hefty $30 cover charge, which includes free champagne and souvenirs. If you'd prefer to spend your money at the bar, head over to Flanagan's tonight, where you can just show up and pay $5. As always, the band is trying to get the crowd to break the bar's record for car bombs consumed in one night, which fiddler-vocalist Joe Crosby told us is 177. (For those not up on Irish "cocktails," a car bomb is a shot of whiskey or Bailey's dropped into a Guinness.) Sadly, they're not free. The music starts at 9.

Zap Mama has been in the game for a minute, but they still blow the minds of newbies who had no idea that this band is one of the best live acts you'll ever get to see on the Black Cat stage. We have no idea how their show has remained such a secret for so long, but this ensemble of sexy, eclectic, highly skilled performers, led by the whirlwind talents of Belgian/Congolese Marie Daulne, has been hitting the Washington market with increasing frequency. Meld hip-hop beats, polyrhythms of the African diaspora, jazz chops and lyrics in four languages and that's the Zap Mama experience. Motor City future funksters Platinum Pied Pipers have the opening slot.

The imminent closure of Red is highlighting the effects that a churning economy and real estate market are having on Washington nightlife. We would wager that many more bands and DJs will begin finding work outside of the city's core, especially as areas like Bethesda and Arlington continue to grow their young, affluent populations. One of the hottest DJs in a local house music scene bursting with skills and creativity is making that move: DJ Double o7 just started residencies at Eleventh Street on Friday nights and at Gua-Rapo on Saturdays. The soulful four-to-the-floor treats get spun starting around 10 p.m. There's no cover -- yet.

For you romantic types, we're told this may be your last chance to watch the sun set over Rosslyn and the National Cathedral from the rooftop at Afterlight. Go hang out by the pool, dance to the music of DJ Shawn Greene, eat a fresh-off-the-grill burger and sip a $4 beer or margarita. Doors open at 5. (There may be another next week, weather permitting, but this week's forecast looks promising.)

Saturday, Oct. 1Tonight is the start of a new era at Galaxy Hut, as the formerly free venue implements its $5 cover charge for evenings with live music. Peeking at their October schedule, not much has changed booking-wise, so it will be interesting to see if forking over an extra $5 to hang out at one of the cooler bars in the area will turn people away. Locals the Bonapartes will be the proverbial guinea pig for this experiment. The quintet treads in the most familiar en vogue sounds (garage rock plus the '80s -- complete with many band members wearing ties on stage), but it knows its way around a tune, and there's a sort of permeating big rock swagger that helps the group pull it all off.

Here's a roadtrip idea: Oktoberfest season has started at Blob's Park, a Jessup beer garden that has been serving the German community since the 1930s. The huge hall that looks like a rustic Knights of Columbus lodge, but with 70 beers, a menu heavy on sausages and schnitzel, and long communal tables, it's as close as you can get to Oktoberfest in Munich without visiting German soil, although the crowd is older and less inclined to rowdy behavior. For the month of October, Blob's Park features special performances by folk dancers and singers. Tonight, it's the Alt Washingtonia Schuhplattler Verein Dancers, and you'll probably find yourself dancing to at least one accordion-fueled number. The entertainment begins at 7 and costs $7 per person. Trust us when we tell you that reservations are recommended.

If you've noticed that Spin has been a little less annoying lately, that's because Sarah Lewitinn has stopped writing her column, Making Out With Ultragrrrl. Never read it? You weren't missing much. (The gist of it, which was pretty accurately captured in the title, was that she got drunk and fawned over an "it" band/performer.) Aggravating or not, she still has name recognition, maintains a popular blog, wrote a book, and now has a record label, Stolen Transmission. All this media attention is good news for D.C. band Her Daily Obsession, because Lewitin is using her label to push the group's first single. HDO's band members are local scene veterans, but their sound is more New York than D.C. -- there are some Bravery-esque dance beats, some Interpol-y atmospherics and lots of Yeah Yeah Yeah's everything else. See if Her Daily Obsession can create the same buzz when opening for a couple of Detroit bands, excellent psych-pop revivalists Outrageous Cherry and over-the-top garage rockers Electric Six at the Black Cat.

Nelly's Applebottoms clothing line is looking for new models today at Platinum (see www.applebottomsmodelsearch.com for more information) and then hosting an afterparty at H2O. Nelly won't be there, but the outdoor barbecue, open bar and DJs from WKYS will be. Get in free when you register for the guest list at www.h2odc.com.

Man, you know the energy crisis is serious when promoters are offering $200 gas cards from Mobil as an inducement to get you through the club's doors. Feeling lucky? Fill up the SUV and head down to Avenue tonight for the new International Saturdays (or Noche Latina, depending which language you prefer to read). Split between hip-hop with DJ Geometrix and Latin tunes from DJ Pana of El Zol (99.1 FM), the night features an open bar until 11, which is sure to please everyone. Get on the list at www.primop.com, and be in the door by 11:30 to get your shot at the gas.

Tuesday, Oct. 4The Groove Gumbo collective has been bringing talent-packed events to the progressive urban arts scene for the past seven years, throwing parties at venues as diverse as Five and the Black Cat. The group launched its newest venture at Mirrors on Sept. 20, and in keeping with the established formula of serving up big helpings for your entertainment dollar, Pookie's Gallery has several components. The two parties thus far have included a Jamiroquai tribute on the eve of the band's newest release and a Richard Pryor multimedia pastiche using the music of Pete Rock as a soundtrack. Visual artists are also on hand, creating pieces live in the lounge area while different guest DJs spin. The main event is a different featured performer each week. Bassey and Black Ice from Def Poetry Jam and local beatsmith and lyricist Kev Brown have already taken the stage, and political poet Amir Sulaiman gets the spotlight tonight.

Wednesday, Oct. 5There was a time when "making it" in the music business meant getting signed to a major label. That's not necessarily the case anymore, but it's still an impressive feat to pull off for a brother-sister duo from Frederick , Md. , that plays the kind of music that was popular 30 years ago. Judd and Maggie has done just that, though, with "Subjects," an album of catchy, slightly unconventional piano-driven soft-rock/folk-rock that was released in August on RCA/Victor. Maggie has a clear, confident voice that takes center stage on most of the songs, but the lyrical content is somewhat bittersweet, if not totally depressing, bringing to mind '70s stars such as Fleetwood Mac and Richard and Linda Thompson. Judd and Maggie will be performing with a full band at Jammin' Java, which will help them recreate the lush, but organic sound achieved on "Subjects."